Africa is such a beautiful continent with so many beautiful natural parks and safaris. Read to the end of this article to find out the best places to visit in Africa.
While Africa may not always be on the radar of the ordinary traveler, those that visit have the opportunity to witness the ideal fusion of old and modern, wild and urban, East and West.
To assist you in planning your vacation, we have evaluated the best destinations to visit in Africa based on their accessibility, cost, and range of activities, as well as user feedback and expert comments.
Contribute to the selection of next year's best locations by voting for your favorites below. (Note: Several of the destinations listed below may be impacted by the coronavirus outbreak. Consult the CDC of each country before traveling.)
Best places to visit in Africa: Summary
Serengeti National Park
Cairo
Tanzania
Victoria Falls
Zanzibar
Kruger National Park
Seychelles
Mauritius
Madagascar
Luxor
Serengeti National Park
If encountering elephants, giraffes, zebras, and wildebeests intrigues you, a safari through Tanzania's Serengeti National Park is the trip for you.
While the cost would be high, a journey here will provide an amazing experience. To save money, reserve a campsite within the park rather than a high-end safari resort or luxury tented camp.
Arrive in January, February, or between June and September for the best wildlife watching.
Cairo
Cairo might be overwhelming due to the abundance of sights and activities available.
From the bustling Khan El-Khalili bazaar in Islamic Cairo to the ancient Pyramids of Giza and the picturesque Nile River, you'll quickly become immersed in the history and culture of this Egyptian city.
While winter is the most pleasant season (with daytime temperatures in the 60s and 70s), it is also the busiest, so consider going in spring or fall when accommodation prices are lower, temperatures are more acceptable, and crowds at attractions thin out.
Tanzania
While the majority of travelers visit Tanzania to go on safari, you'd be negligent if you didn't make time to see the country's other wonders.
Tanzania, in addition to its animal-filled plains, is home to surreal natural wonders such as the red-hued Lake Natron, the huge crater of the Ngorongoro Conservation Area, and Africa's tallest mountain, Mount Kilimanjaro.
Book a climbing adventure up the continent's famed peak with a local tour operator for the ultimate adrenaline thrill.
Victoria Falls
Victoria Falls is one of the best places to visit in Africa.
Outdoor enthusiasts flock from near and far to admire this magnificent UNESCO World Heritage Site.
Victoria Falls, which straddles the Zambia-Zimbabwe border, is about twice the depth and width of Niagara Falls, making it one of the world's most magnificent waterfalls.
To experience the natural wonder at its best, schedule a visit in April after the region's rainy season ends. The Knife-Edge Bridge, Livingstone Island, and Devil's Pool are also popular observation locations.
When you're not admiring the vista from above, try swimming or whitewater rafting on the Zambezi River to get a new perspective on the falls.
Zanzibar
Zanzibar has something for everyone, whether you're looking for stunning beaches or a once-in-a-lifetime adventure.
After journeying to this Indian Ocean resort off Africa's eastern coast, you'll immediately feel at peace while lounging on tranquil beaches like Matemwe and Pongwe.
After you've had your fill of the archipelago's beaches, head to Zanzibar City's UNESCO-listed Stone Town, which features the ruins of a 15th-century palace and a graveyard associated with Zanzibar's old Arab royals.
Without taking a spice tour around the countryside and experiencing Jozani-Chwaka Bay National Park, no trip would be complete.
Kruger National Park
You're certain to see a variety of creatures in this sprawling South African game park, from lions to rhinos to elephants to giraffes.
Additionally, the park's network of paved roads makes it easier to maneuver than Serengeti, but its popularity – particularly between April and September (the greatest months for wildlife watching) – means you're more likely to encounter swarms of guests on game drives and in-park hotels.
To ensure the availability of lodging, flights, and tours, you should plan your vacation at least a year in advance.
Seychelles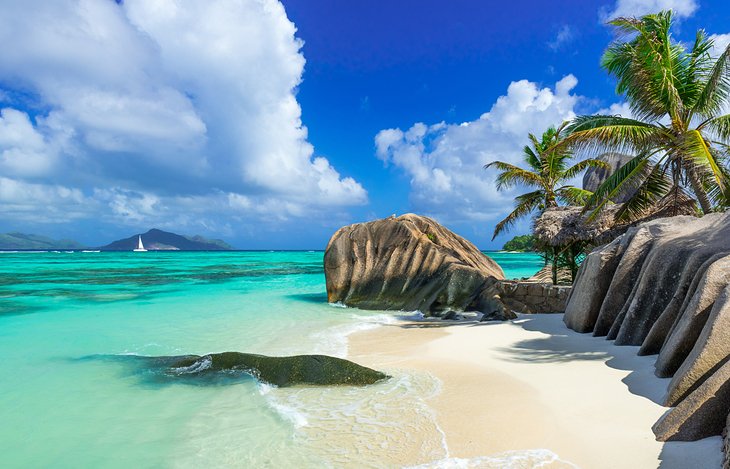 The Seychelles, a group of 115 islands in the Indian Ocean, has long drawn visitors seeking a really tranquil getaway. Spend your days relaxing on uncrowded beaches such as Anse Volbert and Anse Lazio.
Alternatively, venture deep into the Vallée de Mai nature reserve, a UNESCO World Heritage site, to observe the reserve's distinctive flora and fauna.
Bear in mind that lodging is pricey in this area (particularly at the premium resorts), so it's wise to save money and reserve in advance.
Mauritius
Mauritius attracts travelers seeking a little bit of everything. Though its white dunes and opulent resorts are its primary draws, this small island nation east of Madagascar delights visitors with a blend of Dutch, French, and British colonial architecture; friendly residents; and delectable teas and rums.
After a day of exploration and sunbathing, retire to one of the island's top hotels to relish fresh seafood while watching a traditional sega dance performance or the sunset over the Indian Ocean.
Madagascar
Madagascar's habitat is unique in the world: the majority of the landscape is undeveloped, providing tourists with the opportunity to observe creatures in their native habitat.
Travelers will want to capture a photo of the lemur, Madagascar's trademark animal.
Madagascar is home to about 100 species of these critters, as well as over 19,000 different plant types. Isalo National Park and Lokobe National Park are two of the best places to witness wild lemurs.
Luxor
While Cairo's pyramids garner the majority of attention, ancient Egypt enthusiasts know not to neglect Luxor.
Perhaps the most compelling reason to visit this UNESCO World Heritage site is to explore the Valley of the Kings, which contains the tombs of at least 63 ancient pharaohs, including King Tut.
Numerous buildings and tombs dating from the 14th century B.C. have been discovered here, including must-see attractions such as the Temple of Luxor and the Colossi of Memnon.