The stripes trend is a timeless staple. Even though it's not a dominating number in our wardrobe, it is one that has limitless potential like the LBD.
When one thinks of stripes, thoughts are directed to simple black and white stripes. But there are so many designs, silhouettes, styles that will surely tickle your fancy. There are also various ways of styling this trend which will be our focus for this article. Let's dig up some hidden fashion styling tricks in this edition of HOW TO STYLE.
SHIRT
Think shirt, think professional style. The striped shirt is an ideal piece for the workplace. There are various options to choose from that will elevate sass levels. A basic striped shirt can be paired with high waisted pants (if you're curvy) or a midi skirt. You can also switch up your usual black pants with a paper bag waisted pants. Add a classic blazer for extra style points.

Layering is another great way of incorporating stripes. A simple sweater worn over a striped shirt and a pencil skirt would do the trick. Complete your outfit with a stylish trench coat, pumps and your favorite bag.
For a more relaxed style, you can pair your striped shirt with a pair of denim shorts and sneaks. Elevate your look with a bedazzled cross bag and hoops in the accessory department.
Also, if you're going for the basic black and white striped shirt, jazz things up by pairing a bold colored bottom or a touch of it when accessorizing.
TOPS
Striped tops are great pieces to incorporate statement effect into your look. With so many styles, designs and stripe variations, you are sure to find something that suits you.
For a casual look, pair your favorite striped tee with shorts or denim pants. Complete your outfit with ankle boots and a cool hat as the cherry on top.
Neutral colors are not the only choices to go for when styling your striped tops. Have fun with amazing bright colors that give you that extra pop. Switch up your neutral bottoms with bright hues of yellow, green, blue, orange and the likes. For a chic look, you can style your striped top as an inner wear paired with monochrome suits.
Also, daunting styles like the one-sleeve, wrap or ruffle tops are such amazing pieces to rock other than the basic striped tee.
BOTTOMS
Step out of your comfort zone and explore the world of striped bottoms. Although, it isn't the easiest piece to style but it's worth the shot. When wearing striped bottoms, you have to consider your body shape so that you don't present a messy look. For curvy body shapes, go for vertical striped pieces which balances your body proportion and height.
Also, since striped pieces have that statement effect (especially large-sized stripes), you might want to go easy in the accessory department. Simple accessories are just ideal since the print is already taking the center stage.

For starters, the classic white and black striped pants is quite simple to style. It will also get you loving the trend in no time. Pair your striped pants/shorts with any top of your choice. Since the bottoms are neutral, any color will do for the top. Throw on a leather jacket for a little bit of edge.

Once you have gotten your confident foot forward, you could go for colorful striped pants paired with a tank top like the look below.
Apart from pants, striped skirts are also wonderful pieces that'll add the wow factor to your overall look. One of the skirt styles I recommend is the A-line striped skirt. It accentuates and flatters your figure nicely.
For a feminine sass, pair a high waisted striped skirt with a cute top and pumps. A casual style option includes a white tank worn on a pencil striped skirt with a denim vest and trainers.
DRESSES
Striped dresses are one of the coolest and elegant pieces to wear. It affords one the opportunity to make bold fashion statements. Of course, they are various options of styling the striped dress.
Check out this comfy look of a striped dress paired with animal print shoes and bag. Another gorgeous take on the striped style is this lovely red and white dress combined with a jean jacket and white mules. It's the perfect ensemble for street style. For more professional vibes, just add a suit jacket on a fitted striped dress and pair with nude pumps.

A sporty look can also be achieved with a leather or denim jacket worn over a casual striped mini dress. Maxi striped dresses are great weekend wears. It is super comfy with the sass factor in check. Pair with a straw bag, sandals, a pair of sunglasses and you're ready to go.
Apart from the striped dress, the jumpsuit is an alternative choice. Just like the dress, there are numerous ways to pull of the look in perfect fashion.
TWO PIECE
The two piece striped style is the ideal fit for the fashionista who's not afraid to go all out. It comes in various beautiful styles and designs. Spring is on the way and it is must have for your spring wardrobe. Apart from wearing matching prints, you can decide to rock different striped designs all in one ensemble.
Also, mixing and matching other prints like the floral or windowpane patterns is such a fun approach to styling your gear.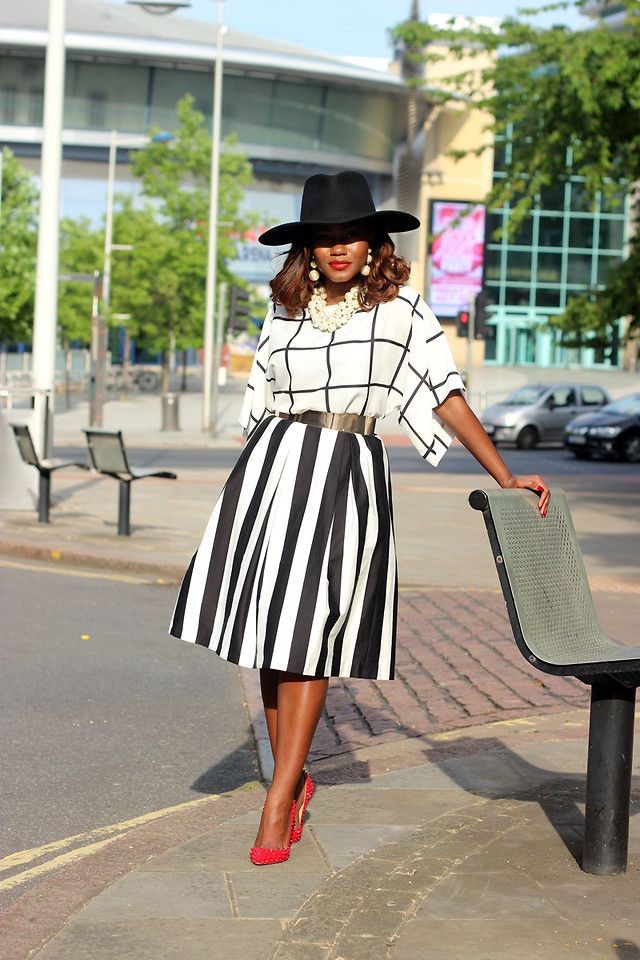 Check out this piece which embodies the stripes and Ankara prints. With minimal accessories, it is perfect for a day out in the city.
Just like the two piece striped clothing, the striped suit is a glamorous piece to own, even if it's just one. Peep out Mai Atafo's sensational striped suit designs. Whether in basic colors or brighter shades, you are sure to turn heads.
ACCESSORIES
Accessories that come in stripes designs are the optimal items for elevating your outfits. From shoes to bags, neck pieces, scarfs, belts and other accessories, you are fully covered. For example, just a striped belt worn on a shirt dress will work the magic. Also, instead of going for a pop of color, you could opt for a "pop of stripes" instead.
CONCLUSION
Rocking striped designs is such a great way to revamp your style in general. Give your plain clothing items a break and explore the dazzling world of stripes.